Research report:
Our Culture, Our Value: The Social and Economic Benefits of Auslan
The essential value of language is not something that we give much thought to. Yet, without language, the most fundamental interactions of life would be impossible. Whether it be buying groceries, talking to our neighbours, or accessing government services, language is critical. It is also essential to engaging with, and participating in, cultural practices. Indeed, language underpins so much of our existence that it is often largely invisible, and its value is under-recognised by policymakers and the public at large.
Report:
Accessible Services for Deaf People who use Auslan in Hospitals and Health Services
Deaf Australia acknowledges that the medical profession's first and foremost focus is patients' health and wellbeing. It is equally important that individuals receiving care are aware of what is happening to their body. Lack of access to information and ability to actively participate in one's primary language can lead to poor treatment and inappropriate post-care that would increase the likelihood of reinjuring or recurrent health episodes that impacts recovery, health and wellbeing.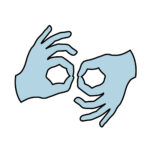 Position Statement:
Preferred Auslan Interpreters
 It is an assumption universally shared that Deaf, Deafblind and hard of hearing1 people all have similar, if not the same, communication skills. Just like any other CALD community in society there is a rich diversity of communication skills in the Deaf community. It is also assumed that, if an Auslan interpreter is NAATI certified they are therefore sufficient for the communication needs of a Deaf client. This Position Paper clearly sets out the reasons for why this assumption is incorrect and can even cause harm. 
Expert Letter:
The importance of Auslan for deaf families in NDIS Plans
 Many families in Australia can be described as deaf families. This means they are a family with a deaf infant or child, or have a family member who is deaf. Deaf Australia is deeply concerned about reports from deaf families that the NDIS is refusing to fund private Auslan tutoring for deaf families when it is requested. 
Response to
Proposed Auslan legislation
Statement
Deaf Australia is aware that Auslan Corporation Ltd, also known as the Sign Language Council, which was registered as a company earlier this year ...
Auslan or AUSLAN?
Statement
"Auslan is a word coined by the Deaf community. It is a term derived from its meaning (Australian sign language), but which was never intended to be an acronym...."